With so much web development agencies and freelancers to choose from, it's hard for both business owners to find great web developers and for agencies to find great clients. By great, we mean clients who pay on time and let you do your job. Here are some proven tips to help you market your services and acquire new clients.
Social Media Marketing
A well thought out presence on Social Media can do a lot for your brand exposure. For instance, you can showcase your design on Behance, share it on Pinterest, network with your peers on LinkedIn or share your successful work in Facebook groups. You don't need to be everywhere. Pick the appropriate platform for your business. If you need to show your future clients that you're a reputable firm with high-skilled employees, your LinkedIn page must convey that message. Ask your employees to fill out their profiles and outline their expertise so they can support your efforts. If you'd like to show your company culture, feel free to use Facebook and Instagram. Not only will you attract new clients, you might attract new employees as well. Consider your brand, your values, your message and show them to the world.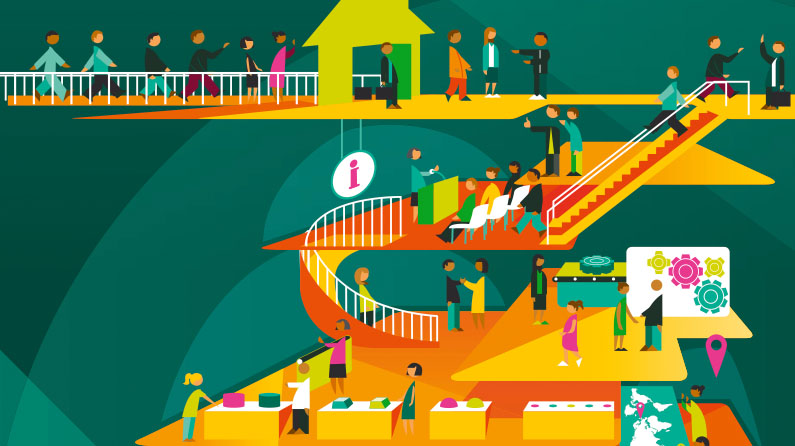 Your company pages are for presentation, however, your personal profiles are for networking and showcasing your skills. Join relevant communities, not just for web development, but for design, marketing, sales etc. Answer questions. Share resources. Be ready with a proposal. 
Content marketing
Content marketing is a subtle way to showcase your skills for the whole world to see. When we say content marketing it usually means writing for your own blog and contributing to relevant, respected blogs in your niche. 
In theory, content marketing is easy: Write awesome content that your potential clients and fellow developers will read. In practice, it's hard. There are key questions you need to answer:
What will I write about?
What's my target audience for this article? Are they business owners or other developers?
How much tech jargon can I use? Will my target audience understand what I wanted to write?
You can start from the basic things that will attract newbies, and continue with more advanced content for experienced readership. Coing development's blog is an excellent example of how a web development company can showcase their expertise through their blog. 
When it comes to guest blogging, you need to first establish a name through your own articles and then approach an influencer and offer your services. Make sure you've read their blog before you pitch a topic, and include a couple of links to your previous work. As you position yourself as an expert, the work will come pouring in. 
Partner with other web developers
Believe it or not, many freelance web developers and web development agencies have clients they can't handle because they don't have the capacity, or it's beyond their capabilities. That's where you come in. Don't look at these people as your competitors, look at them as your peers and give them a referral percentage. They'll think of you as a partner and be happy to send work your way. There are plenty opportunities to network online such as forums, above mentioned communities on social media, or various conferences and meetups. Start-up communities are very open and offer networking opportunities, look for the nearest meet up, just make sure your business cards are ready.
Don't focus on developers only, partner with designers as well, they can recommend that you develop the website they're designing. You can find them on Designerstalk or Behance.
Freebies
In today's world, people are used to free stuff. You can surf the internet all day in a coffee shop, watch movies online for free, use mobile apps, and with many marketing companies offering free resources such as e-books as a way to raise interest in their product, it looks as if everything has a free alternative. Wed development doesn't. 
Why not offer your vision and expertise to a start-up with great potential? Why not offer your services to a charity organisation or a struggling artist. Ask them to refer you to a potential client if they like your work or mention you in the press. 
Make sure your website is your sales tool
As a web development agency, your website needs to be top notch, with great user experience, a portfolio gallery of your past work, client testimonials, case studies, certifications, awards etc. Make sure your potential clients can find you by properly optimising your website and that they can contact you with ease.
We're sure that you've already tried one or two of these tips, but true results come by implementing all of them.